Integration for collaboration: VITOVA EIM is now on Microsoft Azure cloud
Hong Kong, October 18, 2017 - C&T's flagship software VITOVA EIM launches
VitalDoc on Azure
. Harnessing the trend of enterprises looking for trusted cloud platforms to enhance mobility, flexibility and practicality in daily business operations without sacrificing security, VITOVA is now on Azure, an open, flexible, enterprise-grade cloud platform powered by Microsoft. At the practical level, enterprise users of
VitalDoc on Azure
can collaborate blissfully anytime, anywhere, by embracing digital document management and sharing with seamless integration of Microsoft Office applications on the Azure cloud.
Sharing with Cloud Mobility and Security -
Access to centralized repository through web browsers/ file explorers or mobile devices anytime, anywhere, with trusted cloud security
Search to the Point -
Powerful search functions return best results and hit-to-hit highlighting with intelligent scoring from multilingual, index and full-text searching
Secure Document Viewing -
Encrypt documents with AES 256-bit standard and control and log document browsing, saving & printing
Easy Document Filing with Office Integration -
Allow instant document uploading and filing on your familiar Office editing interface and support multiple file types including Word, Excel, PowerPoint, etc.
Email Filing with Seamless Outlook Integration -
Fully integrated with Outlook and Office 365 Outlook for the simplest drag & drop filing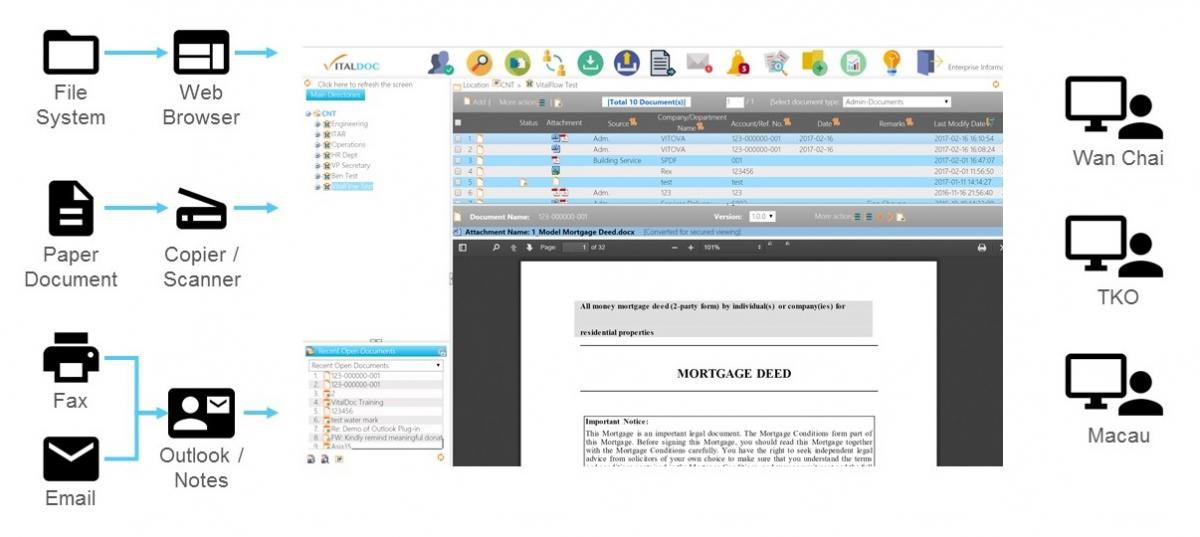 VitalDoc on Azure
also comes with an option of advanced features offered by the
VitalCapture
and
VitalFlow
modules, which turn the cloud-based data management platform into a business-prioritized eco-system that drives an enterprise's better and quicker decision-making by turning semi-structured data into business-ready information and automating business & approval workflows.
VitalCapture -
Comprehensive data capture solution with a full flow of classification & reading, OCR indexing, pre-set list pick-up and database lookup to convert industry-specific emails, forms, invoice, contracts, etc. into business-ready information, which can be delivered to third-party systems for further analysis.

VitalFlow -
Business & approval workflow solution that enhances operation efficiency with full-featured tools for designing e-forms, e.g. Form Structure, Text Controls, Typed Controls, etc.

The rise of information technologies enabling cloud computing and massive data processing drives the need for more efficient collaboration on a shared and secured platform.
VitalDoc on Azure
is VITOVA's a robust integrated solution that facilitates advanced document management minimizing concern about time, location, security, maintenance, etc., and provides a powerhouse of better and quicker business decisions.