Blue Box refines ERP with VitalDoc 8.0 upgrade

Since its inception in 1952, Blue Box Holdings Limited (Blue Box) has closely adhered to a philosophy of making children's toys and entertainment products that are educational, fun and safe. Today Blue Box has been developed into a world-class toy brand and manufacturer in Hong Kong with wholly integrated design, manufacturing, sales and marketing. You will find the Blue Box name behind Infantino, B kids, Elite Force, bbi, Wild Adventure, Sun Zone and many other well-known brands.
To Counter Market Change with ERP
The market reversal in 2005 triggered this traditional family-owned company to reposition its business in order to become a world-class enterprise. To improve its production and management efficiency and lay a solid foundation for its future success in brand development, Blue Box started integrating its resources through the establishment of an enterprise resource planning (ERP) system. The integrated master system required a reliable enterprise-grade data management application to facilitate easy documentation and sharing among all the parties involved in the system.

Completing ERP with Efficient Data Management


The choice for Blue Box was the web-based VitalDoc application of C&T's flagship VITOVA EIM suite. VitalDoc was a competitive package with high usability, providing excellent functions of document searching, document cross referencing, secured document viewing, etc. The implemented VitalDoc served as a central repository behind the workflow system of Blue Box to facilitate collaboration of its multiple departments. From product design to material purchases, they could efficiently complete the processes that involved numerous approval stages, projects, parties and locations, e.g. Hong Kong headquarters and Mainland factories. The adoption of VitalDoc fulfilled the need for better communication and high workflow efficiency surrounding the integrated ERP system.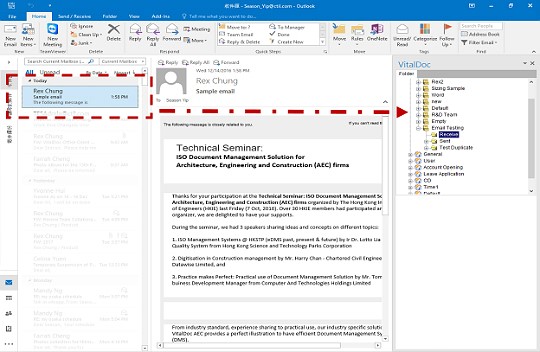 Years of Satisfaction
With the all-round e-documentation support from VITOVA EIM since nearly 10 years ago, Blue Box has engaged a number of VitalDoc server and version upgrades for utilizing the latest VitalDoc functions and features. Blue Box was also among the first batch of customers to apply VitalDoc version 8.0. This major upgrade has greatly enhanced team collaboration efficiency of Blue Box with a number of exciting features, particularly the integration of VitalDoc into the Microsoft Outlook interface enabling the simplest drag & drop email archiving and sharing.
To facilitate its ongoing brand development, Blue Box has never stopped fine-tuning its ERP system. At the same time VITOVA EIM has been in place to provide reliable support for the system through enabling smooth data management, linking up all parties of this continuously expanding group.